COVID VACCINE 
Ahead of crucial WTO meet, rights groups urge patent waiver on COVID-19 vaccines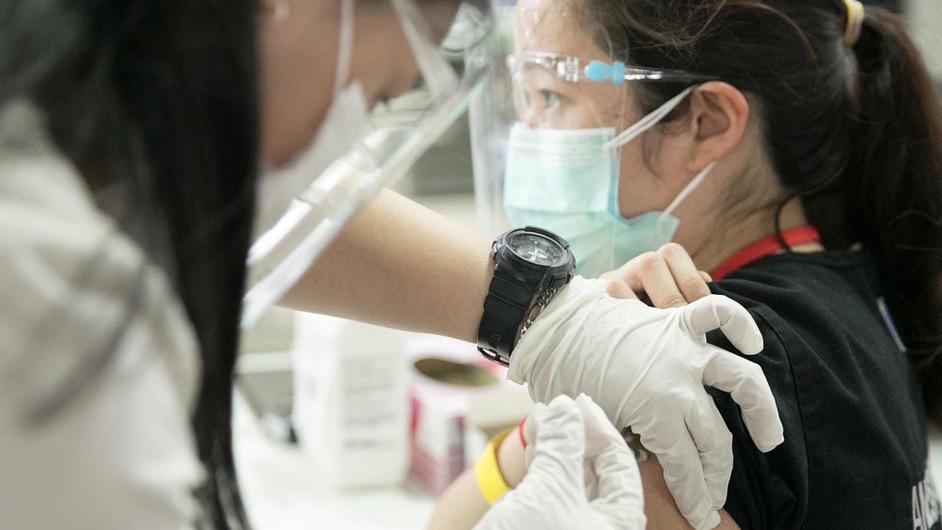 (Photo: NICEF/Jake Verzosa)
Several human rights groups, including Doctors Without Border (Médecins Sans Frontières or MSF), ­­­­­­­­made an urgent appeal to the members of the World Trade Organization (WTO) on the eve of its scheduled virtual meeting on Thursday, April 22, to waive off the patent rights on COVID-19 vaccine production.
More than 100 countries, led by India and South Africa, have demanded the temporary waiver of some clauses of the Trade Related Intellectual Property Rights (TRIPS) on the production of vaccines and other related medical equipment in order to increase their production and facilitate their wider and more equitable reach.
The proposal, though supported by the United Nations and World Health Organization (WHO), has met with stiff opposition from rich countries such as the US, UK, Canada and European Union, among others, who have argued that the waivers disincentivize "innovation" and can harm the interests of big pharma companies involved in the production of the vaccines. They also claim that this will discourage future "innovation".
Critics have pointed out that patent waiver will have no adverse effect on "innovation" as most of the companies have got massive public funding for developing the vaccines.
The curbs on production due to patents and hoarding of vaccines by the rich countries have created a severe shortage at the global level with the majority of the poor countries getting inadequate number of vaccines and crucial medical supplies. Several world leaders and human rights agencies have underlined the fact that vaccine hoarding does not ensure safety against the virus for anyone and that it can also harm the global economy.
A WHO study published earlier this month pointed out the growing disparity in COVID-19 vaccination across the globe. According to the data, at least every fourth individual in the global North is already vaccinated whereas the ratio is one out of every 500 in the poorer countries. The WHO-led COVAX initiative, which was to provide free vaccines to poorer countries, is also underperforming due to shortage of vaccines caused by hoarding and underproduction. It has only supplied 38 million doses as of the first week of April against its target to supply at least 100 million doses by the end of March.
"In this COVID-19 pandemic, we are once again faced with issues of scarcity, which can be addressed through diversification of manufacturing and supply capacity and ensuring the temporary waiver of relevant intellectual property," said Dr. Maria Guevara, MSF's International Medical Secretary, in a statement. She also urged countries such as the US, UK, Canada and the European Union to drop their opposition to the waiver as "it is about saving lives at the end, not protecting systems."
Earlier this week, Progressive International had published a public opinion survey which stated that over 60% of the US population supported the call for a patent waiver and urged president Biden to drop the objections. Several members of the US Congress have also urged the government to drop its objections.