CHINA
SO MUCH WEALTH! China tops U.S. as home to most billionaires
A Journal of People report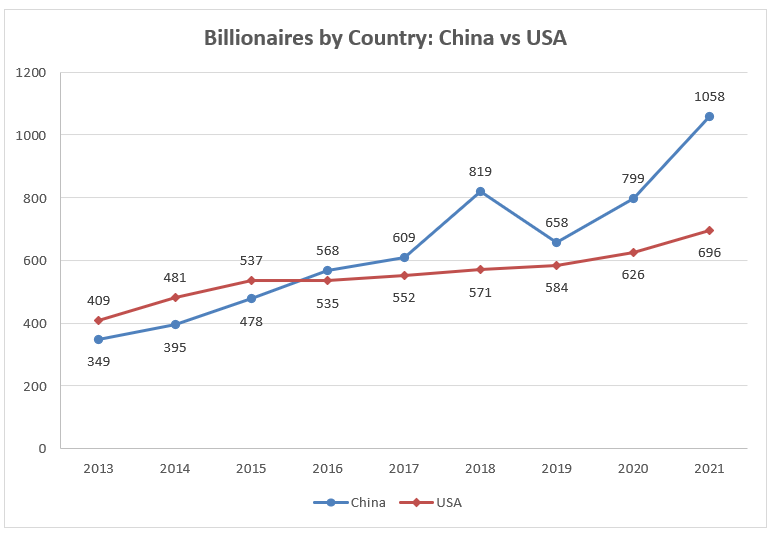 The latest Hurun Global Rich List said: One in every two newly minted dollar-denominated billionaires last year stemmed from China. The Asian country had 1,058 billionaires last year compared with 696 in the U.S.
Based on January 15 valuations, of the 610 new billionaire tycoons globally, 318 were in China, compared with 95 in the U.S.
The report said: "China has added more new faces than the rest of the world combined, and pulled away big time from the USA in the past year."
The Hurun Global Rich List tells the story of the world economy through the stories of the world's most successful entrepreneurs. The list ranked 3228 billionaires from 2,402 companies and 68 countries.
According to Hurun, China had six of the global top 10 cities with the highest concentration of billionaires, with Beijing at the top of the ranking for the sixth consecutive year as home to 145 of the ultra-rich. Beijing is "the world's billionaire capital." New York slipped to third place, after Shanghai added 30 billionaires to 113. Hong Kong was in fifth place with 82 billionaires, behind Shenzhen's 105.
The richest individuals on the planet became collectively richer in 2020 while the world has suffered an unprecedented economic crisis caused by the Covid-19 pandemic. Coronavirus created billionaires from healthcare and retail fastest. Specific winners were electric vehicles and e-commerce.
0.01 percent
The report said the collective wealth of the 0.01 percent surged by 32 percent to $14.7 trillion. The ranks of the ultra-rich in the world grew to 3,228 known billionaires across 2,402 companies in 68 countries.
3 individuals
The report said: "The speed of wealth creation is nothing short of staggering. Three individuals added more than US$50 billion in a single year, led by Elon Musk with US$151 billion, on the back of the rise of e-cars, whilst e-commerce billionaires Jeff Bezos of Amazon and Colin Huang of Pinduoduo added US$50 billion each. At this rate, expect to see fifty or more break through the US$100 billion mark within the next five years."
Never this much wealth created in just one year
Rupert Hoogewerf, chief researcher and chairman of Hurun Report, said: "The world has never seen this much wealth created in just one year, much more than expected for a year so badly disrupted by Covid-19."
Rupert Hoogewerf said:  "A stock markets boom, driven partly by quantitative easing, and flurry of new listings have minted eight new dollar billionaires a week for the past year."
Highlights of the report
The Hurun Global Rich List 2021was released on March 3, 2021.
The list is a ranking of the U.S. Dollar billionaires in the world. Wealth calculations are a snapshot of January 15, 2021. This is the tenth year of the ranking. Shimao Hong Kong Zhuhai Macao Port City, a real estate development in Zhuhai, is the title sponsor of the list.
Highlights/key findings of the report Include the following:
The world adds 412 billionaires – 8 billionaires a week – to take total record to 3,228 billionaires in the world, up from 414 last year and 1,039 OR 47% from five years ago.
WEALTH HITS NEW RECORDS, AGAIN: Despite coronavirus total wealth of the billionaires rose U.S.$3.5 trillion or 32% to U.S.$14.7 tn.
Elon Musk of Tesla adds record U.S.$151 billion to become richest man in world for first time, with U.S.$197 billion.
China pulls away from U.S., leading with 1,058 billionaires, up 259, compared with U.S. with 696 billionaires, up 70.
China and U.S. make up oover half of "known" billionaires in the world.
RISE OF INDIA: India third with 177. India now has 209 billionaires, of which 177 live in India, compared with 689 in the U.S. India last year added billionaires at a similar rate to the U.S., 50 compared with 69.
Germany, UK and Switzerland follow with 100+ each.
Jeff Bezos, last year's richest man, 2nd with U.S.$189 billion, despite adding U.S.$49 billion.
Bernard Arnault, Bill Gates, and Mark Zuckerberg in 3rd, 4th and 5th places with U.S.$114 bn, U.S.$110 bn and U.S.$101 bn.
Record five individuals cross U.S.$100 bn mark.
LUXURY SURGE: Bertrand Puech of Hermes adds U.S.$25 bn to U.S.$80 bn, making this first time two from the Luxury Industry in top 10, the other being Bernard Arnault of  LVMH with U.S$114 bn.
California-based Austin Russel, at 25 yrs, of car sensor maker Luminar Technologies youngest billionaire with U.S.$3.5 bn, followed by UK-based Benjamin Francis (U.S.$1.1 bn) of Gymshark, HK-based Sam Bankman-fried (U.S.$10 bn) of Blockchan Platform FTX, as well as Andy Fang (U.S.$2.8 bn) and Stanley Tang (U.S.$2.8 bn) of U.S. food delivery platform DoorDash, all 28 yrs.
Beijing is world's billionaire capital for the 6th year running with 145 billionaires living there. New York slips to 3rd place, after Shanghai added 30 billionaires to 113. Six of 10 cities with highest concentration of billionaires are now in China.
BY INDUSTRY: Coronavirus drove up billionaires from healthcare and retail fastest. Specific winners were electric vehicles and commerce.
Retail generated 10.3% of total wealth, followed by consumer goods 9.6%, media and entertainment 8.2%, and software and services 7.9%.
By number of billionaires, healthcare and real estate were the primary sources of wealth for 8.7% of billionaires each, followed by consumer goods 8.6%, investments 8.2% and retail 8.0%.
Zhong Shanshan, 67, of bottle water maker Nongfu was the biggest new face, shooting straight into the top 10 with U.S.$85 bn and Asia's number 1 slot.
Tiktok founder Zhang Yiming, 38, adds U.S.$40 bn to breaking into top 30 with U.S.$60 bn.
FAST RISERS: Fastest risers in one year – 161 individuals added U.S.$5 bn or more to their wealth over the past year, led by 84 from China, 38 from U.S. and 5 from India.
Huang Zheng, 41, of e-commerce platform Pinduoduo adds U.S.$51 bn to break into top 20 with U.S.$69 bn. Brian Armstrong, 38, of crypto exchange Coinbase adds U.S.$10 bn to break into top 200 with U.S.$11.5 bn.
California-based Eric Yuan Zheng, 51, of Zoom continued to defy gravity, with wealth rising four-fold to U.S.$19 bn.
Brian Chesky, 39, of AirBnB, saw his wealth rebound, trippling to U.S.$14.5 bn.
BY CONTINENT: Asia accounts for 51% of the world's billionaires, and 45% of their wealth, compared with North America with 24% of the billionaires and 33% of their wealth.
GOING UP: 2312 saw their wealth increase, of which 610 were new faces.
For new faces, China led with 318, followed by the U.S. and India with 95 and 50.
New faces came from healthcare (84), software and services (69), consumer goods (62), retail (42), industrial products 38 and food and beverages 37.
DOWN: Only 635 saw their wealth decrease and there were 194 dropoffs, and 32 billionaires died during the past year. The youngest was Shanghai-based Lin Qi of gaming platform Yoozoo, who was poisoned aged 39 by a former employee. The average age of death was 82, with two making it past 100. Between them, they passed down US$38bn to 6 family members.
Asia has, for the first time in perhaps hundreds of years, more billionaires than the rest of the world combined. Wealth creation is moving to Asia.
Elon Musk is the fourth person to take the title of the Richest Person in the World in the last decade, and at 49yrs is the youngest. Bill Gates was Number One four times, Jeff Bezos three times and Carlos Slim Helu twice.
Don't bet against the billionaires. The first two months of the outbreak wiped out massive amounts of wealth, the second two months saw a V-shaped recovery and since June the new economy, led by digital, has boomed to record heights.
Billionaires have added in the past year the equivalent of the GDP of Germany to take their wealth to the equivalent of China. They added US$3.5tn to take their total wealth to US$14.7tn, a huge concentration of economic power.
The world's billionaires now have US$14 trillion of wealth between them, more than the GDP of China last year.
Billionaires are growing in social influence. Bill Gates, for example, has over 50 million followers on Twitter, followed by Elon Musk and Oprah Winfrey with over 40 million followers. In China, the likes of Jack Ma of Alibaba and Lei Jun of mobile phone maker Xiaomi have over 20 million viewers on Weibo. Former US President Donald Trump used to have the biggest social media following with over 80 million followers, before being banned from Twitter and other social media in January.
It has been a good year for the stock markets generally. Nasdaq and Shenzhen led the way with an increase of just over 40%, followed by India and Japan over 20%. The US dollar depreciated against the Euro by 9%, Chinese Yuan 7% and British Pound by 3%, whilst rising against the Russian Rouble by 16% and Indian Rupee by 2%.
Traditional HK entrepreneurs of the likes of Lee Shau Kee, Li Ka-shing and Henry Chen are now being dwarfed by their mainland counterparts. Within the Top 50 in China, only three Hong Kong entrepreneurs still make the cut. Shenzhen has overtaken its neighbour Hong Kong in terms of the number of billionaires living there 105 to 82.
Billionaires are not keeping up with philanthropy, making money much faster than they are giving it away.
How many billionaires are there in the world? The world today has probably 7500 dollar billionaires, up 1000 on last year, assuming that for every one we found, we have probably missed at least one if not more, particularly from the Gulf states.  We have found 696 billionaires in the USA, for example, suggesting the true number should be at least double that, perhaps as many as 1500. In China, we have found over 1000, but the actual number is probably closer to 2500.
Elon Musk, 49, has become the world's richest person, adding US$151bn over the last year, which works out at just under a billion dollars every two days, to take him to U.S.$197 bn. The bulk of his wealth is from his 21% share of Tesla, which is worth just under U.S.$800 bn. SpaceX, in which Musk has a 52% share, added U.S.$13 bn in value in the past year, after becoming the first private company to put people into orbit, an achievement previously claimed by just three global superpowers. Musk has not been far from the headlines all year, most recently last month, when he announced a U.S.$1.5 bn investment from Tesla into bitcoin. Other projects that have gained attention include the Boring Company which has been digging tunnels to operate high-speed rail service around the Las Vegas Convention Center and Neuralink, which aims to create a working brain to machine interface. Curiously, in 2013, Musk almost sold Tesla to Google for U.S.$11 bn.
Jeff Bezos, 57, is second with U.S.$189 bn, up from US$49bn. Bezos and Musk now make up the 'Big Two' in the world, alternating for the title of the richest person, and competing in the field of space exploration. In the past year, Bezos committed U.S.$10 bn to combat climate change and bought an estate in Beverly Hills, California, for U.S.$165 mn.  Ex-wife MacKenzie Scott, 50, was also up U.S.$17 bn to U.S.$61 bn to maintain a Top 25 place.
Bill Gates, 65, was fourth with U.S.$110 bn, up 4%. Gates made the headlines in March last year after resigning as a director of Microsoft, to focus on his philanthropy. Gates has become the largest farmland owner in the USA with holdings of 242,000 acres of land. The Gates Foundation donated U.S.$250 mn towards Covid relief.
Mark Zuckerberg, 36, who became a billionaire at the age of 23, broke through the U.S.$100 bn mark for the first time to keep a Top 5 place with his wealth up 20%. Facebook today has 2.8 billion registered users, up 12%, despite facing growing anti-trust headwinds from the US government.  Zuckerberg continued to make headlines this past year, first for changing the privacy policy of WhatsApp that allows Facebook to share its extensive data and second with the decision to block news content in Australia.
Warren Buffett, 90, of Berkshire Hathaway, hung on to a Top 10 spot, with U.S.$91 bn, despite losing U.S.$11 bn last year, more than any other billionaire on the list. Berkshire Hathaway's most substantial investments are in Apple and Bank of America, totalling over US$90bn, and in the past year bought Dominion Energy Natural Gas assets in a U.S.$10 bn deal.
Mumbai-based Mukesh Ambani, 63, saw his wealth up 24% to U.S.$83 bn, on the back of a surge in the value of energy and telecom giant Reliance. India's largest exporter, Reliance accounts for 8% of the country's exports and 5% of India's total revenues from customs and excise duty. Reliance is planning a calculated shift to renewable energy and has decided to venture into the battery-making business ahead of the electric vehicle boom.
Where they live
China has pulled away big time from the U.S. in the past year, adding 259 to 1058 to become the first country in the world to top 1000 'known' dollar billionaires. The USA is second with 696 billionaires, up 70. Between the 'Big Two', China and the U.S. have 54% of the 'known' billionaires on the planet. India added 40 to solidify its third place, followed by Germany, the UK, and Switzerland, each with more than 100 'known' billionaires.
Beijing is the billionaire capital of the world with 145 billionaires living there. Shanghai overtook New York to second place, with 113 billionaires. Shenzhen added 30 billionaires to overtook its neighbour Hong Kong and London for fourth place. Six of the Top 10 cities with the most billionaires were in China.
Greater China: The world's absolute No. 1 when it comes to billionaires, with more than the next three countries combined.
Low-key Zhong Shanshan took not just the world, but also China, by surprise when he shot to Number One in China, making his money in bottled water. Pony Ma Huateng of Tencent added US$30bn to keep him at second place with US$74bn. Colin Huang Zheng, 41, continued his meteoric rise, adding US$51bn to third place with US$69bn. Last year's Number One Jack Ma Yun of Alibaba, 57, dropped out of the Top Three for the first time in three years, after China's regulators reined in Ant Group and Alibaba on anti-trust issues. Another big surprise was Zhang Yiming, 38, of ByteDance, who broke into the Top 5 after a surge in the popularity of TikTok in China and across the world. Following the IPO of Kuaishou, which today has a valuation of around US$200bn, the much bigger ByteDance is now looking at potentially being one of Top 10 most valuable companies in the world.
For the first time since records began, there is no real estate entrepreneur in the China Top 10 with Li Ka-shing and Xu Jiayin both dropping out of the Top 10.
The combined wealth of the China-resident billionaires was US$4.5 trillion, up 73% on last year.
Led by Beijing, 6 Chinese cities made the top 10 cities and 9 in the Top 30. The average age is 59, six years younger than the average of the global list. China is the number 1 in the world in terms of generating self-made billionaires and is home to 70% of the world's self-made female billionaires. 15 non-Chinese billionaires, up from 9, were living in China, mostly in HK. John Oyler, 53, of cancer treatment biotech BeiGene was the richest non-Chinese living in mainland China, with his wealth more than doubling to US$3.3bn.
Elon Musk may be leading the world with Tesla, but China's e-car industry is booming, led by Zeng Yuqun, 53, of lithium battery maker CATL. Zeng, the Hurun Person of the Year 2020, broke into the Top 50 with a US$34bn fortune, up US$20bn in a year, followed by the 'Big Three' traditional carmakers: Li Shufu, 58, of Geely added U.S.$10 bn in the year to take him to U.S.$25 bn, whilst Wang Chuanfu, 55, of BYD and Wei Jianjun, 57, of Great Wall Motors, each tripled to U.S.19 bn. Of the 'new kids on the block', He Xiaopeng, 44, of Xpeng saw his wealth double to U.S.$11 bn and Li Bing, 47, of Nio saw his wealth rise 10-fold to US$10bn. There were even two e-bike makers who made the list this year: Dong Jinggui, 51, of Yadea with U.S.$4.6 bn and Li Yinan, 51, of Niu Technologies with U.S.$1.2 bn.
Vaccine, medical equipment and PPE makers have had a strong year. Jiang Rensheng, 68, of vaccine biotech Zhifei Biological tripled to U.S.$26 bn. Li Xiting, 70, and Xu Hang, 59, of medical equipment maker Mindray saw their wealth double to U.S.$23 bn each. Li Jianquan, 64, of PPE maker Winner broke into the list with US$8.1bn.
With the stock markets this hot, stock brokers have had a good year. Qi Shi, 51, of online broker Eastmoney saw his wealth more than triple to U.S.$12.5 bn.
China's billionaires were split into mainland China with 910 (+241), Hong Kong 82 (+12), and Taiwan 57 (+6) billionaires. Mainland China has now added 370 in two years. 9 billionaires living in China are not of Chinese origin.
The U.S. is second behind China with 696 billionaires, up 70. Investments remain the main source of wealth for American billionaires, with 122 billionaires, followed by Software & Services and Media & Entertainment with 90 and 83. Their combined wealth was U.S.$4.4 tr, equivalent to 5% of global GDP or a little more than that of Germany. New York had the highest concentration of billionaires (112), followed by San Francisco (56) and Los Angeles (28). California was the state with the most number of billionaires, 186, of which over half are from the Bay Area. The USA is the world capital for immigrant billionaires. The average age of US billionaires increased to 66, two years higher than the average age of the global list.
France-born Stéphane Bancel, 48, shot into the list with a U.S.$4.5 bn fortune, on the back of his 8.7% share in Covid-19 vaccine maker Moderna.
Daniel Gilbert, 59, of US mortgage lender Rocket Companies, lived up to the name of his company as his wealth 'rocketed' up almost six-fold to U.S.$41 bn, to become one of the fastest risers in the world this year.
Eric Yuan Zheng, 51, saw his wealth continue to 'zoom' up four-fold to U.S.$19 bn, as video conferencing Zoom went from having 10 million meetings a day in late 2019, to over 200 million a day in 2020.
India rises to the 3rd spot with 177 billionaires, 40 more than last year. With U.S.$83 bn, Mukesh Ambani, 63, of Reliance is the richest person in India. Healthcare, Consumer Goods, and Chemicals led the way, with 37, 26, and 19 billionaires each. Mumbai is by far the billionaire capital with 61, followed by New Delhi with 40. The average age was 66. There are a further 32 billionaires of Indian origin, living outside of India, led by LN Mittal of ArcelorMittal in London.
Gautam Adani & family, 58, saw his wealth almost double to U.S.$32 bn, on the back of Adani Green Energy growing to a U.S.$20 bn valuation.
Shiv Nadar & family, 75, saw his wealth rise to U.S.$27 bn, up U.S.$10 bn, backed by a 66% increase in the share price of the software and services giant HCL.
NR Narayana Murthy, 74, was up 35% to US$3.1bn. His son-in-law Rishi Sunak, 40, is the UK Chancellor of the Exchequer, the most powerful person in the British government after the prime minister.
Pankaj Munjal & family, 58, of cycle manufacturer Hero Cycles, made to the list for the first time with U.S.$1.2 bn on the back of the surging e-bike demand in India.
Other notable entrants are Murli Divi & family, 69, of pharma major Divi's Laboratories and Kumar Mangalam Birla & family, 53, of the global conglomerate Aditya Birla Group who grew 72% to U.S.$7.4 bn and 61% to U.S.$9.2 bn.
Notable Dropouts: Scandal hit BR Shetty lost his billionaire status for the first time. Shetty's assets have been ordered to be globally frozen by UK Courts. Ritesh Aggarwal, 27, of hotel chain Oyo Rooms, lost his billionaire status after the impact of Covid-19. Kirshore Biyani of Future Retail, the fastest wealth creator in 2018, dropped out after over-leveraging that blew out of control due to Covid-19. Rajesh Mehta also dropped out.
Germany was 4th with 141 billionaires. Retail led with 27 billionaires, followed by Food & Beverages with 20 and Healthcare with 18. Their combined wealth was U.S.$587 bn. The average age is 63. Munich was the preferred city to live in followed by Hamburg. 119 saw their wealth increase, of which 27 were new faces. 16 decreased and 1 dropped off. 6 stayed the same.
The UK remains 5th with 134 billionaires, despite adding 15 billionaires. Real Estate and Retail led the way with 26 and 20 billionaires. UK billionaires have a combined wealth of U.S.$484 bn. The UK is second for immigrant billionaires, after the USA. London was the undisputed city of choice for 82 of them.
The UK's biggest individual taxpayer, Denise Coates, 53, of online gambling platform Bet365, was the fastest riser, with her wealth doubling to US$10.5bn.
Backed by the IPO of Warner Music Group, Ukraine-born Leonard Blavatnik, 63, saw his wealth almost double to US$32bn to take the title of richest person in the UK from the Hinduja brothers.
Russia-born Denis Sverdlov, 42, of e-bus manufacturer Arrival debuts the list with a wealth of U.S.$5.2 bn.
Russia dropped to 7th position with 85 billionaires, down by 6. All are self-made. The most popular sectors were Energy and Metals & Mining with 21 and 20 billionaires respectively. Moscow was home for 67 of them. Their combined wealth came to U.S.$393 bn, up 8.4%. With US$29bn Vladimir Potanin, 60, of mining giant Interros, is the richest Moscow-based billionaire.  The richest Russia-born entrepreneur is California-based Sergey Brin, 47, of Alphabet.
France rose to 8th position with 68 billionaires, 17 more than last year. Their combined wealth was U.S.$534 bn, up 22.7%. The preferred sector was Consumer Goods and Food & Beverages and with 14 and 8 billionaires respectively. Paris is the preferred city and is home to 44 billionaires. France's five richest individuals all made their wealth in luxury, led by Bernard Arnault of LVMH, followed by Bertrand Puech of Hermes, Francoise Bettencourt Meyers of L'Oreal, Francois Pinault of Kering, and Alain Wertheimer of Chanel.
Brazil slipped to the 9th spot with 59 billionaires, 10 less than last year. The combined wealth of the Brazilian billionaires was U.S.$166 bn, 9.8% less than last year. The preferred sectors were Financial Services and Healthcare with 15 and 9 billionaires. Sao Paulo was the preferred city for 35 of Brazil's 59 billionaires. The richest man in Brazil is Marcel Herrmann Telles of investment firm 3G Capital with U.S.$9.2 bn.
Thailand slipped to the 10th position with 52 billionaires. Their combined wealth was U.S.$123 bn. The preferred sector is Food & Beverages with 31 billionaires. Bangkok is the preferred city for almost all Thai billionaires.
Comparison of China vs U.S. billionaires: 2016 was the year that China overtook the USA in terms of billionaires.
Investors have had a strong year: Tokyo-based Masayoshi Son, 63, of Softbank came back strongly, after last year's challenges with WeWork, to grow U.S.$17 bn to U.S.$40 bn and a Top 50 place in the world. HK-based Neil Shen Nanpeng, 54, of Sequoia China had a storming year with big investments in Meituan and Pinduoduo to U.S.$6.9 bn, whilst Beijing-based Zhang Lei, 49, of Hillhouse, almost doubled to U.S.$5.9 bn on the back of strong investment returns in biotech. Both broke into the Top 500 of the world.
The "Green" billionaires: This year's list witnessed 24 new entrants from green industries. Billionaires from EVs more than tripled their wealth and those from renewable energy increased their wealth by 75%. China dominated the new addition in both renewable and green energy; the fastest wealth creator was Lin Bin of Nio, up ten-fold to US$10bn, although Elon Musk topped the growth chart in terms of absolute value by adding US$151bn to his wealth. US President Biden's election has given the sector an impetus, especially with the US likely rejoining of the Paris Accord.
Mergers & Acquisitions
Jen-Hsun Huang (Wealth U.S.$12.5 bn), 57, saw his wealth double to US$12.5bn, on the back of Nvidia's acquisition of ARM from Softbank for US$40bn.
Anthony Pratt (Wealth US$6.6bn), 60, of Visy industries bought Owens-Illinois Glassmaking for U.S.$790 mn.
Aon owned by Patrick Ryan (Wealth U.S.$3.2 bn), 83, and Willis Towers Watson agreed to merge operations under Aon. Following the close of the transaction, 63% of the combined company will be owned by Aon shareholders and 37% will be owned by Willis Towers Watson shareholders.
Marc Benioff (Wealth US$8.4bn), 56, owned Salesforce acquired Slack for U.S.$27 bn, Under the terms of the agreement, Slack shareholders will receive $26.79 in cash and 0.0776 shares of Salesforce common stock for each Slack share.
Masatoshi Ito (Wealth US$3.7bn) of Seven and I, 92, acquired Speedway Gas Stations for US$21bn
Koch Industries completed the acquisition of enterprise software company Infor for U.S.$13 bn.
Semiconductor manufacturer Marvell, which is owned by Dai Weili (Wealth U.S.$1.7 bn), 58, acquired Inphi, (semiconductor manufacturer) for US$10bn
Dutch billionaire Jitse Groen's, 42, (Wealth US$2bn), Just Eat acquired GrubHub for U.S.$7.3 bn. Both are in the business of online food delivery.
Billionaires Spending Big
Steve Cohen (Wealth U.S.$11.5 bn) of SAC Capital Advisors bought New York Mets for US$2.4bn.
Dan Friedkin (Wealth US$4.6bn) of Gulf States Toyota, bought Italian Serie A football team AS Roma for U.S.$700 mn.
Steve Ballmer (Wealth US$80bn) bought the Forum in Inglewood, a multi-purpose indoor arena in a U.S.$400 mn cash deal.
Jeff Bezos (Wealth U.S.$189 bn) bought a U.S.$165 mn mansion in California record.
Shahid Khan (Wealth US$8.8bn) of auto components maker Flex N Gate, sold his yacht Kismet for U.S.$200 mn.
Ken Griffin (Wealth U.S.$17 bn) bought a painting by American artist Basquiat for more than US$100mn and a double lot on Miami Beach's Star Island for US$37mn.
Having sold all his shares in Wynn Resorts in 2018, Steve Wynn (Wealth US$3.1bn) this past year bought two Picasso paintings for US$105mn.
The family of Singaporean Goh Cheng Liang (Wealth U.S.$22 bn), of Nippon Paints, is said to be the buyer of a bungalow sitting on 101,550 square feet of freehold land in Garlick Avenue, Singapore at a price of about US$70mn.
Michael Bloomberg (Wealth U.S.$56 bn) bought a Colorado Ranch with 4600 acres for U.S.$45 mn from fellow billionaire Henry Kravis (Rank 338, Wealth U.S.$8 bn), 77, of private equity giant KKR.
Leonard Lauder (Wealth US$23bn) of Estee Lauder bought a palm beach estate for U.S.$25 mn.
Gail Miller (Wealth US$3.1bn) of Larry H. Miller Group, sold NBA franchise Utah Jazz for U.S.$1.6 bn to Australian billionaire Mike Cannon-Brookes.
John Gandel (Wealth U.S.$4.1 bn) of Chandell, bought a Bombardier 7500 business jet for US$73mn.
Robert Smith (Wealth U.S.$6.2 bn) of Vista Equity Partners, bought Two North Palm Beach Homes for US$48.2mn.
Travis Kalanick (Wealth U.S.$2.9 bn), the former CEO of Uber, bought the Bel Air mansion for US$43mn.
Leslie Alexander (Wealth US$1.8bn) of Houston Rockets pocketed U.S.$16 mn for La Jolla Beach House.
Paul Fireman (Wealth US$1.1bn) of Fireman Capital Partners, sold his Massachusetts Mansion for U.S.$23 mn.
Trouble with the Law
Jay Y Lee (Wealth U.S.$10 bn) of Samsung, imprisoned for stock price manipulation and accounting fraud in connection with a 2015 merger.
Bulat Utemuratov (Wealth U.S.$4 bn) of Verny Capital, was under house arrest and had his asset frozen.
Michael Milken (Wealth U.S.$3.9 bn) of Drexel Burham Lambert, was banned from the securities industry after pleading guilty to securities fraud in 1990. Milken had been pardoned previously by President Trump.
San Francisco 49ers owner Eddie DeBartolo Jr. was pardoned by President Trump after 1998 charges relating to a bribery scandal.
Prasert Prasarttong-Osoth (Wealth U.S.$2.7 bn) of Bangkok Dusit Medical Services, resigned as CEO of Bangkok Airways over charges for share price manipulation.
Han Chang-woo (Wealth U.S.$3.2 bn), 89, of Japan-based pachinko chain Maruhan, sued the eldest of his six children for the return of a loan of U.S.$4.5 mn with interest.
In jail: China-based Xiao Jianhua of Tomorrow Holdings with U.S.$3.9 bn.