PEOPLE'S HISTORY: FIGHT AGAINST FASCISM 
'Five Days, Five Nights': Flight to Freedom from Fascist Portugal
Michael Berkowitz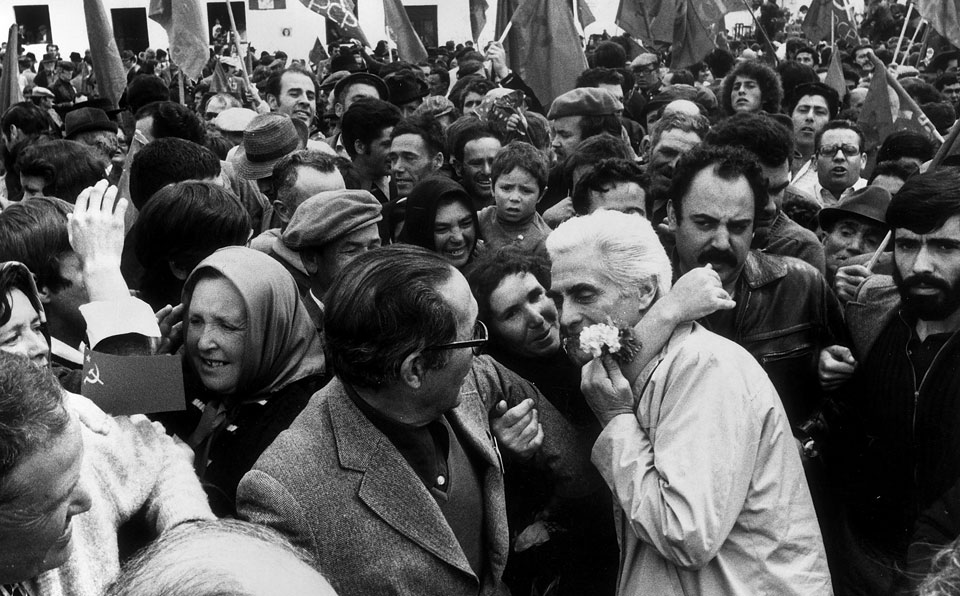 Álvaro Cunhal, right holding a white flower, led Portugal's Communist Party for half a century and became a national hero after the overthrow of the country's dictatorship. Here, he is embraced by supporters during a rally amidst Portugal 1974 'Carnation Revolution.' Cunhal, who spent nearly 35 years underground or in jail for his role in building the Communists into the only well-organized opposition to the dictatorship of Antonio Salazar and then Marcelo Caetano, was secretly an author of fiction. One of his novels, 'Five Days, Five Nights,' written under the pseudonym Manuel Tiago, has just been published in English for the first time by International Publishers. | Acacio Franco / AP
Álvaro Cunhal had a little secret. It was a good thing that he did. Living under the fascist Salazar dictatorship of mid-20th-century Portugal for the first half of his life, Cunhal needed secrecy. After all, for decades he was a leader and ultimately the Secretary General of the Portuguese Communist Party, which waged a life-and-death struggle against the fascist regime.
So, Álvaro Cunhal was forced to go underground into hiding. After he was caught, he was imprisoned for 11 years, eight of them in solitary confinement. He was routinely tortured and starved. After his daring 1960 escape from Forte de Peniche Prison, this revolutionary was driven into exile from his native land, where he served the cause from abroad. He returned in 1974 after the revolution that finally, after almost half a century, overturned fascism, and that immediately led to the independence of the Portuguese colonies.
Once again he became politically active in his native country, a public figure never to be ignored or forgotten. When he died at 91 in 2005, half a million people crowded the streets of Lisbon to celebrate his life.
Most of those celebrants could probably tell you something of his daring adventures, of how he devoted his life to the service of the Portuguese people. But very few knew Cunhal's secret—Manuel Tiago!
It turned out that Cunhal had used his prison time, and later his exile time and still later his freedom back home, quite well. Aside from his political writings, he had become an accomplished artist, a translator of Shakespeare and, under the pen name of Manuel Tiago, the author of nine books of fiction, one of which (the present book under review) was later adapted to film and another into a popular TV series. The authorship of Cunhal's books was known only to Party leadership until much later in his life.
Clearly, a Communist who gave his life to the cause must have had a higher purpose in leaving the world such a body of fiction. Now, readers of English have their first opportunity to find out.
Thanks to the adept translation of Eric Gordon, cultural editor of People's World, we now have Manuel Tiago's Five Days, Five Nights. This novella had been preserved, left in the archives of Peniche Prison when Cunhal escaped. After the 1974 Revolution, the military officers who ran the prison handed the manuscript back to Cunhal, and it was published the following year.
Five Days, Five Nights is the fictional story of 19-year-old André and his attempt to flee to Spain from oppression in Portugal. To cross the border he enlists the help of the shady, dangerous, older criminal Lambaça. They must cross the rough border terrain, passing through villages and encountering a few peasants along their way.
Cunhal etches his characters sparsely, but as sharply as the rugged landscape. André's youthful optimism, high sense of morality and energy contrast with Lambaça's evasive, secretive manners, perhaps cultivated as a response to the corrupt, fascist order. Their relationship is of constant mistrust, occasionally violently flaring to the surface. The plot is driven by this conflict which threatens the outcome of André's flight from the country. Through such dramatic tension, we see the struggle of the old order against the promise of a new progressive age.
Five Days, Five Nights is available from International Publishers.
Yet Cunhal is a shrewd teller of his tale. If André is an impatient youth, is he perhaps too naïve and impetuous for his own good? And if Lambaça is so crude and immoral, why does he trouble to take this young rebel over the border at such risk?
"André…spoke of the importance of the crossing, of responsibilities, cooperation. Now he spoke with a calm, persuasive voice, and leaning forward, attempted to discern in Lambaça some expression or gesture.
"In the dark of the night, Lambaça, still as a stone, did not react. Only when André had finished did he say, his words drawling with contempt, 'I've known all that for more than twenty years.'"
The neo-realist noir novella takes pains to detail aspects of the modest lives along the border. Hardscrabble border-runners, vulnerable prostitutes, herders and villagers comprise the repressed underclass of fascist Portugal. Cunhal purposely doesn't set his characters in too specific a place or time. But clearly the border represents hope and the possibility of change.
Gordon, the translator, has done an admirable job bringing to life Cunhal's words describing the border flight which now defines the status of more and more of the world's at-risk population. The publication benefits immensely from the accompanying series of illustrations by the artist Ilse Gordon (the translator's sister), whose drawings round out our impressions of the principals, lending them humanity while placing them firmly in the context of rural hinterlands.
The book also features an informative foreword, author, translator and illustrator biographies, a map of Portugal, and an unusual feature at the end, "Some Questions to Ponder and Discuss," obviously meant to spur the reader's inquiry into the deeper meanings of the story.
International Publishers has begun with Five Days, Five Nights, and further "Manuel Tiago" books are reportedly coming. This will be a progressively staged publishing event I, for one, will be most interested in following.
A vote of gratitude is owed to the Gordons for their success in realizing and broadcasting Álvaro Cunhal's secret, the description of the struggle for change against an oppressive order—lessons hard learned and well expressed.
Five Days, Five Nights
by Manuel Tiago (Álvaro Cunhal)
New York: International Publishers, 2020
72 pp., $15.99
ISBN: 9780717807895