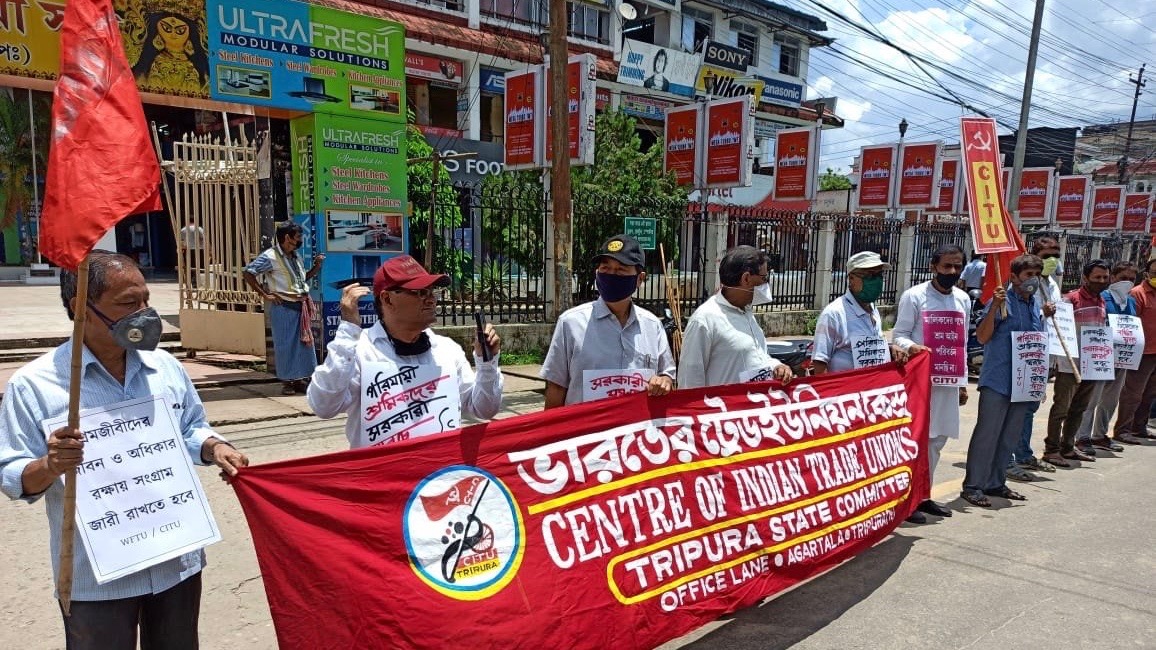 On July 3, 10 of India's central trade unions organized countrywide protests against the anti-people policies of the Narendra Modi-led government. Thousands of protesters gathered in several States demanding an immediate end of the government's privatization of the railway, defense and insurance sectors. This was the second round of country-wide protests held after the first round on May 22.
The protests saw participation across many occupational sectors in the major states of the country. Organizers also commented that their action had received widespread solidarity from farmers' and agricultural workers' organizations, who actively participated in demonstrations in rural areas.
Demonstration in Delhi
Hundreds of central government employees on Friday mobilized in India's national capital against the privatization and commercialization of core strategic sectors.
"We, the workers, need to do everything possible to defend our rights of unionization, collective bargaining, decent working conditions, wages and future securities," the 10 central trade unions, that cuts across political affiliations, wrote in a joint statement issued on July 3.
The central government "has no respect and concern for the rights and basic survival-entitlements of workers and the people, [it] does not deserve any cooperation," the unions added.
Demonstration in Rajasthan 
Railway employees, represented by their national and regional fronts, staged lunch-hour demonstrations on Friday against the proposal of private companies running trains on selected routes. Protests were also observed by railway guards, who were led by All India Guards Council (AIGC). Rallies were held at rail coach factories in Uttar Pradesh's Rae Bareli and Punjab's Kapurthala, among others.
"Any move to privatize the Indian Railways will be strongly opposed," said Shiv Gopal Mishra, general secretary of All India Railwaymen's Federation (AIRF).
"The rail workers protested against the destructive agenda of the Center today. It will only intensify in the coming days by forging a joint front of all central government employees. We will even go on strike, if forced to," Mishra told NewsClick.
Similarly, at a sectoral level, agitational programs were organized in offices and work facilities by insurance, defense, bank, electricity and state telecom carrier BSNL employees.
Demonstration in Jharkhand 
In the wake of COVID-19 linked disruptions in the Indian economy, the central government went on a privatization spree. India's Finance Minister Nirmala Sitharaman announced in May that under the new Public Sector Enterprises Policy – part of Atmanirbhar Bharat Package (Self-reliant India package) – there will be a maximum of four public sector companies in strategic sectors and state-owned firms in other segments will eventually be privatized.
The new policies also included introduction of commercial mining in the coal sector and enhancement of private investments in the mineral sector – a move that has drawn criticism from industry experts as well as workers' fronts.
Friday's nationwide protest coincides with the second day of the three-day strike being observed by around 5.3 lakh coal workers – both, permanent and contract – in at least 400 mines and 75 establishments spread across nine states.
"It is for the first time that such an overwhelming response can be witnessed in an opposition to a policy matter – and which is not just related to economic benefits of the workers," D D Ramanandan, general secretary of the All India Coal Workers Federation (AICWF) told NewsClick.
"The strike has received support from steel, oil federations and even by the people at large. Today's protest highlights the unified agitation against the anti-labor agendas of the Modi government," he said.
Demonstration in West Bengal
Protests were staged by oil and gas workers as well at Indian Oil Corporation's (IOC) Digboi refinery in Assam and unit offices of Oil and Natural Gas Corporation's (ONGC) at Assam's Silchar and Tripura's Agartala among others.
Nogen Chutia, general secretary of Petroleum and Gas Workers' Federation of India (PGWFI), explained the "illogical" move of the Center to increase petrol and diesel prices through taxation in times of pandemic-hit crisis. "On one hand, the oil prices are being increased by the Center, and on other hand, it is in talks to privatize the oil companies – a decision that will further deregulate the oil sector. The oil workers are against both the moves," he said.
Meanwhile, industrial areas across the country also reverberated with the demands of workers to revoke changes in the labor laws. Led by trade unions, factory workers in hundreds gathered in Haryana's Manesar and Uttar Pradesh's Ghaziabad urging the government to pay heed to their demand of cash transfers.
With MSMEs among the worst hit by the virus-triggered lockdown, huge wage cuts and mass lay-offs now grips the industrial establishments in these belts. Amid this, some states including Uttar Pradesh and Gujarat introduced relaxations in labor laws, which is feared to further the hardships of factory workers.
The protest also saw participation by sections of informal workers, including those from the construction sector and street vending business. VKS Gautam, general secretary of the Building Workers' Union explained the significance of their protest. "It is a fight to save the pillars of our country on which the livelihoods of many are dependent. The Modi government's policies are exclusionary in nature. It will affect the poor and the marginalized in the worst manner. The informal workers are understanding this and thus are coming forward, giving voice to their anger."
The All India Kisan Sangharsh Coordination Committee – which consists of 130 farmers' groups – also expressed solidarity to the Friday protest, saying that "the lockdown is being used by the central government to enact laws against farmers and workers to swiftly implement policies that promote and support corporates."
Demonstrations, led by All India Agricultural Workers' Union (AIAWU), were held in rural areas in Punjab and Maharashtra, and also by agricultural workers and MGNREGA (rural employment guarantee) workers demanding increase in wages and work days under rural employment guarantee scheme.
At places where gatherings were not possible, online public meetings were held which saw participation in thousands, for instance in States like Andhra Pradesh and Telangana.
In New Delhi, the representatives of central trade unions staged a demonstration in front of Shram Shakti Bhawan. The leaders met Santosh Gangwar, Minister of State (independent charge), Ministry of Labor and Employment and submitted a memorandum.
Speaking with NewsClick, All India Trade Union Congress (AITUC) general secretary Amarjeet Kaur said it is no more only a trade union's fight but a "struggle of the common man".
"The government is not paying heed to our concerns; it is talking about Atmanirbhar Bharat (self-sufficient India) but doing exactly the reverse. If such an irresponsible attitude continues, the stir will only intensify in the coming day." she added a meeting of central trade unions has been scheduled on July 8 in which the future course will be decided.
(With inputs from NewsClick)
[THIS IS POSTED HERE FOR NON-PROFIT, NON-COMMERCIAL, EDUCATIONAL PURPOSE.]