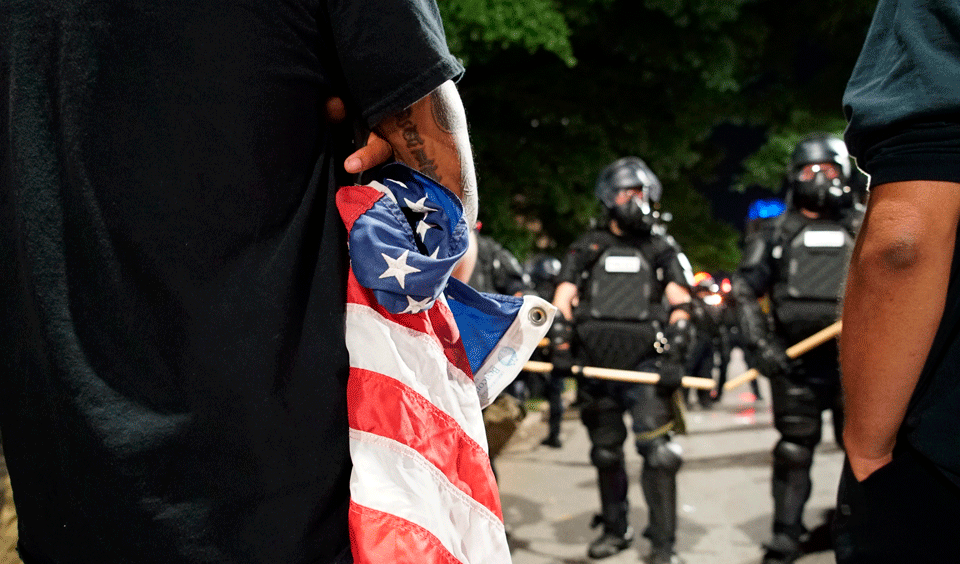 A protester holds a tattered American flag as police stand in formation in front of the old state capitol in Raleigh, N.C., Sunday, May 31, 2020. | Allen G. Breed / AP
Poets have a talent for capturing a glance, a mood, a spirit, a moment, an idea in just a few concentrated words that by use of metaphor, rhythm, rhyme and other literary devices stand for much more than the words themselves say. The current wave of protests connected with racist police brutality, the coronavirus crisis, the economic depression, and a growing fascistic governance has reawakened a new passion for social and racial justice throughout the country. We offer these poems today to give our readers pause for thought and inspiration, and for us all to remember we are not, we have never been, and will never be alone.
I Look at the World
Langston Hughes
I look at the world
From awakening eyes in a black face—
And this is what I see:
This fenced-off narrow space
Assigned to me.
I look then at the silly walls
Through dark eyes in a dark face—
And this is what I know:
That all these walls oppression builds
Will have to go!
I look at my own body
With eyes no longer blind—
And I see that my own hands can make
The world that's in my mind.
Then let us hurry, comrades,
The road to find.
* * * * *