by Al Neal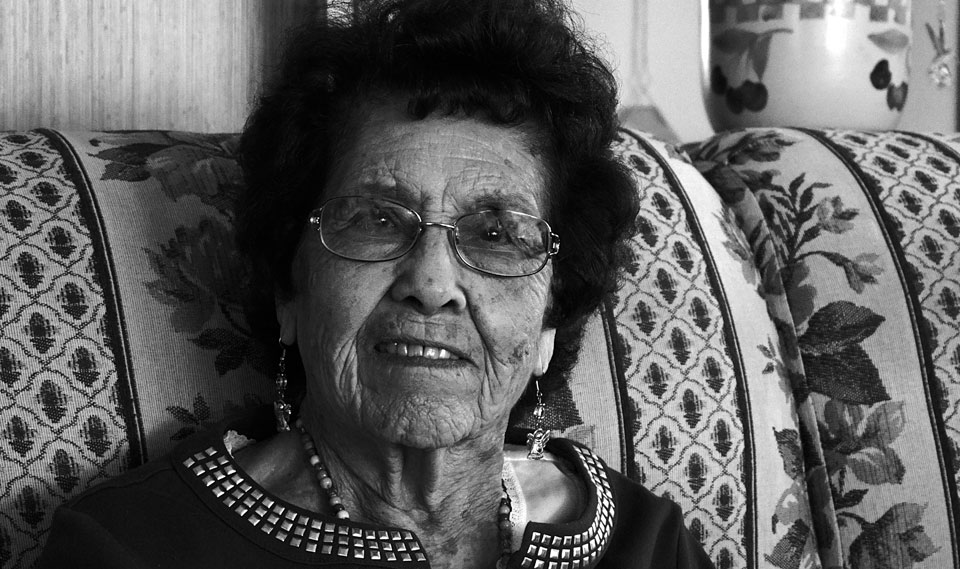 Anita Torrez sits smiling in her sunlit Tucson living room. | Al Neal / PW
It's a lonely two-lane stretch of Arizona desert highway from Phoenix to Tucson. To your left and to your right greenish-brown desert brush, solitary cacti, and tan, rocky valleys and hilltops seem to dance before your eyes. A mirage.
Like Don Quixote mistaking windmills for giants, the cacti around you transform into an ominous roadside companion—the result of hot air expanding, reducing its refractive index, causing the path light travels on to bend.
And no matter how early you leave, the summer sun will pierce your eyes. Blocking your view for most of the scenic drive while the arid heat keeps you reaching over for the cool water canteen, constantly.
A little over an hour after getting on Interstate 10 West—the outside temperature a steady 98 degrees Fahrenheit—highway signs welcome you to Tucson (Tuk' Son in Spanish derived from the Native O'odham word Cuk Son, "base of the black hill.")
Tucson, also lovingly known as "The Old Pueblo" by locals.
In stark contrast from the Phoenix metro area, Tucson, by design and architecture, is proud of its historic Spanish, Mexican, and Native American roots—being only 60 miles from the U.S.-Mexico border in Nogales helps in keeping the cross-border culture alive.
And as hard as it is to believe, given the dry heat, excessive temperatures, and lack of rainfall, Tucson, along with much of the Southwest region, is heavily dependent on agriculture for its livelihood.
It's a major industry in Tucson, drawing hundreds of migratory farm laborers regularly for about $11.37 an hour. Many local families point to farm labor opportunities when asked what brought their grandparents and great-grandparents to the region in the first place.
With a bustling downtown area surrounded by mountainous landscape, a top-rated University (University of Arizona), and only a short drive for a day trip over the border, it's easy to see why folks plant roots here.
It truly is a beautiful place filled with a rich and storied history.
So, what was I doing all the way out there? Going to talk with a living legend, of course.
Anita Torrez, 92, lives in a modest desert home here. There's plenty of shade from the sun and greenery in her front yard, giving you a sense of calm as you stare out the sitting room's large front window—accented by the sounds of subtle windchimes, singing birds, and children playing with their family dogs.
"I don't get around much as I used to," said Torrez, mid-chuckle, as we took a seat on her couch. "Nowadays I do everything very slow."
Torrez is not a native of the Tucson area. Most of her life was spent in the Southwest with a few years out on the West Coast.
"I was born out in the country, Gila, New Mexico, about 40 miles from Bayard, where the Empire Zinc mine was," said Torrez. "I came from a big family, we were eight, all born in the same town. My father was an agricultural worker, working in the fields, and my mother stayed home and took care of us.
"We all graduated from high school, that's where I met Lorenzo [her husband]," continued Torrez. "We were from the same town, went to the same high school…you could say we were sort of like high school sweethearts."
2019 marks a century since the founding of the Communist Party USA. To commemorate the anniversary of the oldest socialist organization in the United States, People's World has launched the article series: 100 Years of the Communist Party USA. Read the other articles published in the series and check out the guidelines about how to submit your own contribution.
Her husband Lorenzo quit school in 1945, volunteered for the Army during World War II, and was sent to France for two years. After his discharge and return to the states, they were married in 1948 and started working.
"After high school, I worked in whatever jobs I could find, cleaning, picking potatoes with the other farm workers, whatever. I don't remember how much we got paid—not very much, and we worked from sunup to sundown," she said.
"It was after we got married that Lorenzo got a job at Empire Zinc as a smelter and joined the union immediately. I didn't get active with the union at first and would just watch as he went to union meetings out in Bayard. But that all changed once the strike started."
The Empire Zinc strike, also known as the Salt of the Earth Strike, was 15-month-long copper miners' strike in Bayard, New Mexico against the Empire Zinc Company over discriminatory pay and housing practices against Mexican-American miners.
The strike kicked off October 17, 1950 and was led by members of Local 880 of the International Union of Mine, Mill, and Smelter Workers—a militant and proudly "red" union with roots in the Western Federation of Miners (WFM). It was a founding member of the Congress of Industrial Organizations (CIO).
Iconic labor leader "Big" Bill Haywood of the Industrial Workers of the World (IWW) got his start with the WFM.
By the '50s the "Mine-Mill" union had over 300 locals with a membership totaling some 37,000 in the U.S. and Canada, despite being expelled by the CIO for ties to the Communist Party USA.
I asked Torrez about the strike, her involvement, and the movie (Salt of the Earth) that she and other mining families starred in depicting the strike. It was a Hollywood retelling of the strike by blacklisted writers, directors, and producers that put the workers into focus, not the movie stars. To this day, it retains the distinction of being the only blacklisted film in U.S. history.
"Oh…the strike started because there was a lot of discrimination…" Torrez said, scratching her chin, a faraway look in her eyes as she went back in time. "There was a lot of Mexican-American discrimination—wages were lower, the housing was not good, it was divided. Mexican Americans lived in one part of the mining town, the whites in the another; the whites had better homes, Mexican Americans had no running water, the others did. That was part of the reasons for the strike, along with the pay—the pay was much lower for Mexican Americans."
As the strike went on, Torrez remembered many non-union white miners acting as "scabs," strikebreakers who did whatever they could, along with the company, to scare off striking workers.
The company went as far as getting a Taft-Hartley Act court injunction saying the workers could not legally strike. This is where the " Mine-Mill" Ladies Auxiliary came in.
"After the injunction, we, the women, decided to take over the picket line," she said. "It was quite exciting and scary at times.
"Many women were hurt when cars tried to drive through the picket line, and we did whatever we had to stop them—raising their hoods so they couldn't go farther, blocking the roads."
From what Torrez was saying, the company was more afraid of the women on the picket line than the men. So much so that they called in the police to scare them off with threats of mass arrest.
"The police were not very favorable, not favorable at all. They would come to look around… I don't remember if there was ever an actual fight between police and strikers, but there was a lot of propaganda (anti-union and anti-communist)," Torrez said.
"As they strike grew, the police began to arrest the women on the picket lines as a way to scare them and their husbands. They had arrest warrants for them, and then I learned they had one for me too."
At this point in the strike, Torrez was pregnant with her second child. After much discussion, she was moved from the picket line to the union office where she would sit at a typewriter addressing envelopes. When the police came around looking for her at the union office, she casually replied: "Anita Torrez? I don't know who she is." And with that, they left.
In the end, the strikers won—getting improved pay, living conditions, and other workplace standards. But for many leaders of the strike, thought to be Communists by law enforcement, the "red scare" and FBI involvement let to blacklisting and unemployment. Anita and Lorenzo Torrez were themselves victims of the anti-communist McCarthy era.
"When did you join the Communist Party USA?" I asked.
"I can't quite remember…we just kept going to meeting after meeting after meeting, and before I knew it, we had joined," she replied laughing. "For a while, the union and the party helped us pay our house note, we had a two-bedroom and one refrigerator that was it…then Lorenzo was offered a job with the party to be an organizer in Los Angeles. He was asked to organize Mexican Americans in the party…so we moved there for only two years."
According to Torrez, she hated living in the big city, being from the country and all.
Then came the mid-1970s which found the Torrez family moving to Tucson. Lorenzo became chairperson of the Tucson CPUSA club. Anita Torrez went to work at a local garment factory and become a member-leader of her local International Ladies' Garment Workers Union (ILGWU).
Both Torrez and her husband remained CPUSA members well into their retirement years.
"I worked at the factory for almost 20 years," she said, and I was active in the union, but it was difficult because we were now in a "Right to Work" state.
"I used to help the ILGWU organizer do house visits when they came up from Los Angeles, but being such a small shop—only 50 total workers is what I remember—asking my coworkers to join the union was hard, they always had excuses: 'My husband doesn't want me to join,' or 'I have kids and can't afford to pay union dues.'
Her time at the shop was, for the most part, without incident. But then came the issue of sitting stools.
"I didn't work at the needle machine, I worked in packaging. And at first, we would stand for 8 to 12 hours straight, so we fought for stools because at the time the company only provided stools to the needle workers. So, we organized and did a workplace slowdown. A few days later, after orders were backed up, the company gave in and gave us stools so we would get off our feet every so often while packing orders."
Torrez retired from the factory and still gets a $65.00 pension check monthly.
Never one to sit down and take it easy, Torrez and her husband founded the Salt of the Earth Labor College in 1993 as a way to teach, recruit, and encourage a new generation of labor, community, and political activists. Many future union leaders and activists, locally and nationally, have gone to some of the college's classes, book signings, and speaker series.
Her husband Lorenzo died in 2012, and while Anita Torrez is no longer actively teaching classes, she continues to maintain a presence in the small schoolhouse, hopeful of its potential in creating a new generation of socially conscious activists.
"Everybody I see at the college is new… everyone else has retired," said Torrez. "It's wonderful to see new faces, and I hope we continue to bring people together.
"And I'll continue to do what I can, even if it's slower then what I'm used to."
I said goodbye and retraced my path out the front door, a lightness in my step as I walked back to the car. I stopped mid-step only once to look back at her home, thinking aloud: "What a life…what a story."